3 Great Rift Valley Lakes Lake Nakuru, Lake Baringo and Lake Bogoria Safari
3 Great Rift Valley Lakes Lake Nakuru, Lake Baringo and Lake Bogoria Safari
Lake Nakuru
Lake Nakuru is a stunning soda lake situated in Kenya's Great Rift Valley. It is renowned for its vibrant pink flamingo population, creating a breathtaking sight. The lake is a designated national park, home to a diverse range of bird species and other wildlife.
Lake Baringo 
Lake Baringo is a freshwater lake located in Kenya's Rift Valley. It is known for its scenic beauty and abundant birdlife, making it a popular destination for birdwatchers. The lake is surrounded by lush vegetation and offers opportunities for boat trips and fishing
Lake Bogoria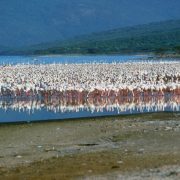 Nestled within Kenya's Rift Valley, Lake Bogoria is a captivating sight to behold. This alkaline soda lake stretches over 34 square kilometers and is surrounded by breathtaking landscapes.
What sets Lake Bogoria apart is its mesmerizing array of geysers and hot springs, which create an otherworldly atmosphere. The geothermal activity here is truly a sight to behold, with steam rising from the water's surface, adding to the allure.
But it's not just the geysers that draw visitors; Lake Bogoria is a haven for birdwatchers as well. The lake is home to a plethora of flamingos, herons, and other waterfowl, making it a paradise for ornithologists and nature enthusiasts alike.
As you explore the shores, you'll be treated to the sight of flocks of flamingos creating a sea of pink, making for an unforgettable spectacle. Beyond the avian wonders, the surrounding acacia woodlands are inhabited by an array of wildlife, including zebras, warthogs, and dik-diks.
For those seeking relaxation, the lake's therapeutic hot springs offer a rejuvenating experience, perfect for unwinding after a day of exploration.
Lake Bogoria is a protected national reserve, ensuring the preservation of its unique ecosystem. Visitors can engage in guided tours to learn about the lake's geological significance and the importance of its conservation.
Whether you're an avid birdwatcher, a nature lover, or simply seeking tranquility in a breathtaking setting, Lake Bogoria is a destination that promises an unforgettable and enriching experience.
Transport
Park fees
Boat ride and Safari Walk at Lake Baringo
Services of an English-speaking guide
Drinking water
Tips Optional activities Travel insurances and medical covers Anything not mentioned.
Morning: Departure from Nairobi After an early breakfast, your safari guide will pick you up from your hotel in Nairobi. Begin the journey to Lake Nakuru National Park, approximately a 3 to 4-hour drive depending on traffic and road conditions. Mid-morning: Arrive at Lake Nakuru Upon reaching the park, proceed with a game drive, allowing you to spot various wildlife and bird species. Keep an eye out for the iconic pink flamingos that adorn the lake's shoreline, creating a picturesque scene. Lunch: Picnic in the Park Enjoy a delicious picnic lunch amidst the natural beauty of Lake Nakuru National Park. Afternoon: Continue the Game Drive Resume your game drive, exploring different parts of the park to maximize wildlife sightings. Encounter buffalo, waterbucks, giraffes, zebras, and possibly even a rhino or two. Evening: Check-in at the Lodge As the sun sets, head to your lodge or camp located inside or near the park for check-in and some relaxation. Take in the serene surroundings and enjoy a scrumptious dinner at the lodge's restaurant.
Early Morning: Sunrise Game Drive Wake up early to catch the stunning sunrise over Lake Nakuru. Embark on a morning game drive to witness wildlife at its most active, with predators on the prowl and birds soaring above. Breakfast: Back at the Lodge Return to the lodge for a hearty breakfast, savoring the flavors while relishing the wilderness views. Afterwards exit and drive to Lake Baringo to arrive in time for lunch and have a relaxed afternoon. Leave the lodge at 3.30 PM for a boat ride in Lake Baringo and a walk guided walk in the one of the Baringo Island.
After breakfast and some relaxation we leave for Lake Bogoria Arrive at Lake Bogoria and proceed for game drive in search of millions of Flamingos in the shores of Lake and the boiling steams. We later leave Bogoria for Nairobi with a lunch stop at Nakuru town Arrive in Nairobi and be dropped off at you hotel residence or Airport End of Safari
Calendar & Price
26
Price Per Person
General price:
Adult (18+ years)
$

500.00 / ticket
27
Price Per Person
General price:
Adult (18+ years)
$

500.00 / ticket
28
Price Per Person
General price:
Adult (18+ years)
$

500.00 / ticket
29
Price Per Person
General price:
Adult (18+ years)
$

500.00 / ticket
30
Price Per Person
General price:
Adult (18+ years)
$

500.00 / ticket
1
Price Per Person
General price:
Adult (18+ years)
$

500.00 / ticket
26
Price Per Person
General price:
Adult (18+ years)
$

500.00 / ticket
27
Price Per Person
General price:
Adult (18+ years)
$

500.00 / ticket
28
Price Per Person
General price:
Adult (18+ years)
$

500.00 / ticket
29
Price Per Person
General price:
Adult (18+ years)
$

500.00 / ticket
30
Price Per Person
General price:
Adult (18+ years)
$

500.00 / ticket
1
Price Per Person
General price:
Adult (18+ years)
$

500.00 / ticket
2
Price Per Person
General price:
Adult (18+ years)
$

500.00 / ticket
3
Price Per Person
General price:
Adult (18+ years)
$

500.00 / ticket
4
Price Per Person
General price:
Adult (18+ years)
$

500.00 / ticket
5
Price Per Person
General price:
Adult (18+ years)
$

500.00 / ticket
6
Price Per Person
General price:
Adult (18+ years)
$

500.00 / ticket
7
Price Per Person
General price:
Adult (18+ years)
$

500.00 / ticket
8
Price Per Person
General price:
Adult (18+ years)
$

500.00 / ticket
9
Price Per Person
General price:
Adult (18+ years)
$

500.00 / ticket
10
Price Per Person
General price:
Adult (18+ years)
$

500.00 / ticket
11
Price Per Person
General price:
Adult (18+ years)
$

500.00 / ticket
12
Price Per Person
General price:
Adult (18+ years)
$

500.00 / ticket
13
Price Per Person
General price:
Adult (18+ years)
$

500.00 / ticket
14
Price Per Person
General price:
Adult (18+ years)
$

500.00 / ticket
15
Price Per Person
General price:
Adult (18+ years)
$

500.00 / ticket
16
Price Per Person
General price:
Adult (18+ years)
$

500.00 / ticket
17
Price Per Person
General price:
Adult (18+ years)
$

500.00 / ticket
18
Price Per Person
General price:
Adult (18+ years)
$

500.00 / ticket
19
Price Per Person
General price:
Adult (18+ years)
$

500.00 / ticket
20
Price Per Person
General price:
Adult (18+ years)
$

500.00 / ticket
21
Price Per Person
General price:
Adult (18+ years)
$

500.00 / ticket
22
Price Per Person
General price:
Adult (18+ years)
$

500.00 / ticket
23
Price Per Person
General price:
Adult (18+ years)
$

500.00 / ticket
24
Price Per Person
General price:
Adult (18+ years)
$

500.00 / ticket
25
Price Per Person
General price:
Adult (18+ years)
$

500.00 / ticket
26
Price Per Person
General price:
Adult (18+ years)
$

500.00 / ticket
27
Price Per Person
General price:
Adult (18+ years)
$

500.00 / ticket
28
Price Per Person
General price:
Adult (18+ years)
$

500.00 / ticket
29
Price Per Person
General price:
Adult (18+ years)
$

500.00 / ticket
30
Price Per Person
General price:
Adult (18+ years)
$

500.00 / ticket
31
Price Per Person
General price:
Adult (18+ years)
$

500.00 / ticket
1
Price Per Person
General price:
Adult (18+ years)
$

500.00 / ticket
2
Price Per Person
General price:
Adult (18+ years)
$

500.00 / ticket
3
Price Per Person
General price:
Adult (18+ years)
$

500.00 / ticket
4
Price Per Person
General price:
Adult (18+ years)
$

500.00 / ticket
5
Price Per Person
General price:
Adult (18+ years)
$

500.00 / ticket
30
Price Per Person
General price:
Adult (18+ years)
$

500.00 / ticket
31
Price Per Person
General price:
Adult (18+ years)
$

500.00 / ticket
1
Price Per Person
General price:
Adult (18+ years)
$

500.00 / ticket
2
Price Per Person
General price:
Adult (18+ years)
$

500.00 / ticket
3
Price Per Person
General price:
Adult (18+ years)
$

500.00 / ticket
4
Price Per Person
General price:
Adult (18+ years)
$

500.00 / ticket
5
Price Per Person
General price:
Adult (18+ years)
$

500.00 / ticket
6
Price Per Person
General price:
Adult (18+ years)
$

500.00 / ticket
7
Price Per Person
General price:
Adult (18+ years)
$

500.00 / ticket
8
Price Per Person
General price:
Adult (18+ years)
$

500.00 / ticket
9
Price Per Person
General price:
Adult (18+ years)
$

500.00 / ticket
10
Price Per Person
General price:
Adult (18+ years)
$

500.00 / ticket
11
Price Per Person
General price:
Adult (18+ years)
$

500.00 / ticket
12
Price Per Person
General price:
Adult (18+ years)
$

500.00 / ticket
13
Price Per Person
General price:
Adult (18+ years)
$

500.00 / ticket
14
Price Per Person
General price:
Adult (18+ years)
$

500.00 / ticket
15
Price Per Person
General price:
Adult (18+ years)
$

500.00 / ticket
16
Price Per Person
General price:
Adult (18+ years)
$

500.00 / ticket
17
Price Per Person
General price:
Adult (18+ years)
$

500.00 / ticket
18
Price Per Person
General price:
Adult (18+ years)
$

500.00 / ticket
19
Price Per Person
General price:
Adult (18+ years)
$

500.00 / ticket
20
Price Per Person
General price:
Adult (18+ years)
$

500.00 / ticket
21
Price Per Person
General price:
Adult (18+ years)
$

500.00 / ticket
22
Price Per Person
General price:
Adult (18+ years)
$

500.00 / ticket
23
Price Per Person
General price:
Adult (18+ years)
$

500.00 / ticket
24
Price Per Person
General price:
Adult (18+ years)
$

500.00 / ticket
25
Price Per Person
General price:
Adult (18+ years)
$

500.00 / ticket
26
Price Per Person
General price:
Adult (18+ years)
$

500.00 / ticket
27
Price Per Person
General price:
Adult (18+ years)
$

500.00 / ticket
28
Price Per Person
General price:
Adult (18+ years)
$

500.00 / ticket
29
Price Per Person
General price:
Adult (18+ years)
$

500.00 / ticket
30
Price Per Person
General price:
Adult (18+ years)
$

500.00 / ticket
1
Price Per Person
General price:
Adult (18+ years)
$

500.00 / ticket
2
Price Per Person
General price:
Adult (18+ years)
$

500.00 / ticket
3
Price Per Person
General price:
Adult (18+ years)
$

500.00 / ticket
27
Price Per Person
General price:
Adult (18+ years)
$

500.00 / ticket
28
Price Per Person
General price:
Adult (18+ years)
$

500.00 / ticket
29
Price Per Person
General price:
Adult (18+ years)
$

500.00 / ticket
30
Price Per Person
General price:
Adult (18+ years)
$

500.00 / ticket
1
Price Per Person
General price:
Adult (18+ years)
$

500.00 / ticket
2
Price Per Person
General price:
Adult (18+ years)
$

500.00 / ticket
3
Price Per Person
General price:
Adult (18+ years)
$

500.00 / ticket
4
Price Per Person
General price:
Adult (18+ years)
$

500.00 / ticket
5
Price Per Person
General price:
Adult (18+ years)
$

500.00 / ticket
6
Price Per Person
General price:
Adult (18+ years)
$

500.00 / ticket
7
Price Per Person
General price:
Adult (18+ years)
$

500.00 / ticket
8
Price Per Person
General price:
Adult (18+ years)
$

500.00 / ticket
9
Price Per Person
General price:
Adult (18+ years)
$

500.00 / ticket
10
Price Per Person
General price:
Adult (18+ years)
$

500.00 / ticket
11
Price Per Person
General price:
Adult (18+ years)
$

500.00 / ticket
12
Price Per Person
General price:
Adult (18+ years)
$

500.00 / ticket
13
Price Per Person
General price:
Adult (18+ years)
$

500.00 / ticket
14
Price Per Person
General price:
Adult (18+ years)
$

500.00 / ticket
15
Price Per Person
General price:
Adult (18+ years)
$

500.00 / ticket
16
Price Per Person
General price:
Adult (18+ years)
$

500.00 / ticket
17
Price Per Person
General price:
Adult (18+ years)
$

500.00 / ticket
18
Price Per Person
General price:
Adult (18+ years)
$

500.00 / ticket
19
Price Per Person
General price:
Adult (18+ years)
$

500.00 / ticket
20
Price Per Person
General price:
Adult (18+ years)
$

500.00 / ticket
21
Price Per Person
General price:
Adult (18+ years)
$

500.00 / ticket
22
Price Per Person
General price:
Adult (18+ years)
$

500.00 / ticket
23
Price Per Person
General price:
Adult (18+ years)
$

500.00 / ticket
24
Price Per Person
General price:
Adult (18+ years)
$

500.00 / ticket
25
Price Per Person
General price:
Adult (18+ years)
$

500.00 / ticket
26
Price Per Person
General price:
Adult (18+ years)
$

500.00 / ticket
27
Price Per Person
General price:
Adult (18+ years)
$

500.00 / ticket
28
Price Per Person
General price:
Adult (18+ years)
$

500.00 / ticket
29
Price Per Person
General price:
Adult (18+ years)
$

500.00 / ticket
30
Price Per Person
General price:
Adult (18+ years)
$

500.00 / ticket
31
Price Per Person
General price:
Adult (18+ years)
$

500.00 / ticket
1
Price Per Person
General price:
Adult (18+ years)
$

500.00 / ticket
2
Price Per Person
General price:
Adult (18+ years)
$

500.00 / ticket
3
Price Per Person
General price:
Adult (18+ years)
$

500.00 / ticket
4
Price Per Person
General price:
Adult (18+ years)
$

500.00 / ticket
5
Price Per Person
General price:
Adult (18+ years)
$

500.00 / ticket
6
Price Per Person
General price:
Adult (18+ years)
$

500.00 / ticket
7
Price Per Person
General price:
Adult (18+ years)
$

500.00 / ticket
8
Price Per Person
General price:
Adult (18+ years)
$

500.00 / ticket
9
Price Per Person
General price:
Adult (18+ years)
$

500.00 / ticket
10
Price Per Person
General price:
Adult (18+ years)
$

500.00 / ticket
11
Price Per Person
General price:
Adult (18+ years)
$

500.00 / ticket
12
Price Per Person
General price:
Adult (18+ years)
$

500.00 / ticket
13
Price Per Person
General price:
Adult (18+ years)
$

500.00 / ticket
14
Price Per Person
General price:
Adult (18+ years)
$

500.00 / ticket
15
Price Per Person
General price:
Adult (18+ years)
$

500.00 / ticket
16
Price Per Person
General price:
Adult (18+ years)
$

500.00 / ticket
17
Price Per Person
General price:
Adult (18+ years)
$

500.00 / ticket
18
Price Per Person
General price:
Adult (18+ years)
$

500.00 / ticket
19
Price Per Person
General price:
Adult (18+ years)
$

500.00 / ticket
20
Price Per Person
General price:
Adult (18+ years)
$

500.00 / ticket
21
Price Per Person
General price:
Adult (18+ years)
$

500.00 / ticket
22
Price Per Person
General price:
Adult (18+ years)
$

500.00 / ticket
23
Price Per Person
General price:
Adult (18+ years)
$

500.00 / ticket
24
Price Per Person
General price:
Adult (18+ years)
$

500.00 / ticket
25
Price Per Person
General price:
Adult (18+ years)
$

500.00 / ticket
26
Price Per Person
General price:
Adult (18+ years)
$

500.00 / ticket
27
Price Per Person
General price:
Adult (18+ years)
$

500.00 / ticket
28
Price Per Person
General price:
Adult (18+ years)
$

500.00 / ticket
29
Price Per Person
General price:
Adult (18+ years)
$

500.00 / ticket
30
Price Per Person
General price:
Adult (18+ years)
$

500.00 / ticket
31
Price Per Person
General price:
Adult (18+ years)
$

500.00 / ticket
1
Price Per Person
General price:
Adult (18+ years)
$

500.00 / ticket
2
Price Per Person
General price:
Adult (18+ years)
$

500.00 / ticket
3
Price Per Person
General price:
Adult (18+ years)
$

500.00 / ticket
4
Price Per Person
General price:
Adult (18+ years)
$

500.00 / ticket
29
Price Per Person
General price:
Adult (18+ years)
$

500.00 / ticket
30
Price Per Person
General price:
Adult (18+ years)
$

500.00 / ticket
31
Price Per Person
General price:
Adult (18+ years)
$

500.00 / ticket
1
Price Per Person
General price:
Adult (18+ years)
$

500.00 / ticket
2
Price Per Person
General price:
Adult (18+ years)
$

500.00 / ticket
3
Price Per Person
General price:
Adult (18+ years)
$

500.00 / ticket
4
Price Per Person
General price:
Adult (18+ years)
$

500.00 / ticket
5
Price Per Person
General price:
Adult (18+ years)
$

500.00 / ticket
6
Price Per Person
General price:
Adult (18+ years)
$

500.00 / ticket
7
Price Per Person
General price:
Adult (18+ years)
$

500.00 / ticket
8
Price Per Person
General price:
Adult (18+ years)
$

500.00 / ticket
9
Price Per Person
General price:
Adult (18+ years)
$

500.00 / ticket
10
Price Per Person
General price:
Adult (18+ years)
$

500.00 / ticket
11
Price Per Person
General price:
Adult (18+ years)
$

500.00 / ticket
12
Price Per Person
General price:
Adult (18+ years)
$

500.00 / ticket
13
Price Per Person
General price:
Adult (18+ years)
$

500.00 / ticket
14
Price Per Person
General price:
Adult (18+ years)
$

500.00 / ticket
15
Price Per Person
General price:
Adult (18+ years)
$

500.00 / ticket
16
Price Per Person
General price:
Adult (18+ years)
$

500.00 / ticket
17
Price Per Person
General price:
Adult (18+ years)
$

500.00 / ticket
18
Price Per Person
General price:
Adult (18+ years)
$

500.00 / ticket
19
Price Per Person
General price:
Adult (18+ years)
$

500.00 / ticket
20
Price Per Person
General price:
Adult (18+ years)
$

500.00 / ticket
21
Price Per Person
General price:
Adult (18+ years)
$

500.00 / ticket
22
Price Per Person
General price:
Adult (18+ years)
$

500.00 / ticket
23
Price Per Person
General price:
Adult (18+ years)
$

500.00 / ticket
24
Price Per Person
General price:
Adult (18+ years)
$

500.00 / ticket
25
Price Per Person
General price:
Adult (18+ years)
$

500.00 / ticket
26
Price Per Person
General price:
Adult (18+ years)
$

500.00 / ticket
27
Price Per Person
General price:
Adult (18+ years)
$

500.00 / ticket
28
Price Per Person
General price:
Adult (18+ years)
$

500.00 / ticket
29
Price Per Person
General price:
Adult (18+ years)
$

500.00 / ticket
1
Price Per Person
General price:
Adult (18+ years)
$

500.00 / ticket
2
Price Per Person
General price:
Adult (18+ years)
$

500.00 / ticket
3
Price Per Person
General price:
Adult (18+ years)
$

500.00 / ticket
26
Price Per Person
General price:
Adult (18+ years)
$

500.00 / ticket
27
Price Per Person
General price:
Adult (18+ years)
$

500.00 / ticket
28
Price Per Person
General price:
Adult (18+ years)
$

500.00 / ticket
29
Price Per Person
General price:
Adult (18+ years)
$

500.00 / ticket
1
Price Per Person
General price:
Adult (18+ years)
$

500.00 / ticket
2
Price Per Person
General price:
Adult (18+ years)
$

500.00 / ticket
3
Price Per Person
General price:
Adult (18+ years)
$

500.00 / ticket
4
Price Per Person
General price:
Adult (18+ years)
$

500.00 / ticket
5
Price Per Person
General price:
Adult (18+ years)
$

500.00 / ticket
6
Price Per Person
General price:
Adult (18+ years)
$

500.00 / ticket
7
Price Per Person
General price:
Adult (18+ years)
$

500.00 / ticket
8
Price Per Person
General price:
Adult (18+ years)
$

500.00 / ticket
9
Price Per Person
General price:
Adult (18+ years)
$

500.00 / ticket
10
Price Per Person
General price:
Adult (18+ years)
$

500.00 / ticket
11
Price Per Person
General price:
Adult (18+ years)
$

500.00 / ticket
12
Price Per Person
General price:
Adult (18+ years)
$

500.00 / ticket
13
Price Per Person
General price:
Adult (18+ years)
$

500.00 / ticket
14
Price Per Person
General price:
Adult (18+ years)
$

500.00 / ticket
15
Price Per Person
General price:
Adult (18+ years)
$

500.00 / ticket
16
Price Per Person
General price:
Adult (18+ years)
$

500.00 / ticket
17
Price Per Person
General price:
Adult (18+ years)
$

500.00 / ticket
18
Price Per Person
General price:
Adult (18+ years)
$

500.00 / ticket
19
Price Per Person
General price:
Adult (18+ years)
$

500.00 / ticket
20
Price Per Person
General price:
Adult (18+ years)
$

500.00 / ticket
21
Price Per Person
General price:
Adult (18+ years)
$

500.00 / ticket
22
Price Per Person
General price:
Adult (18+ years)
$

500.00 / ticket
23
Price Per Person
General price:
Adult (18+ years)
$

500.00 / ticket
24
Price Per Person
General price:
Adult (18+ years)
$

500.00 / ticket
25
Price Per Person
General price:
Adult (18+ years)
$

500.00 / ticket
26
Price Per Person
General price:
Adult (18+ years)
$

500.00 / ticket
27
Price Per Person
General price:
Adult (18+ years)
$

500.00 / ticket
28
Price Per Person
General price:
Adult (18+ years)
$

500.00 / ticket
29
Price Per Person
General price:
Adult (18+ years)
$

500.00 / ticket
30
Price Per Person
General price:
Adult (18+ years)
$

500.00 / ticket
31
Price Per Person
General price:
Adult (18+ years)
$

500.00 / ticket
1
Price Per Person
General price:
Adult (18+ years)
$

500.00 / ticket
2
Price Per Person
General price:
Adult (18+ years)
$

500.00 / ticket
3
Price Per Person
General price:
Adult (18+ years)
$

500.00 / ticket
4
Price Per Person
General price:
Adult (18+ years)
$

500.00 / ticket
5
Price Per Person
General price:
Adult (18+ years)
$

500.00 / ticket
6
Price Per Person
General price:
Adult (18+ years)
$

500.00 / ticket
7
Price Per Person
General price:
Adult (18+ years)
$

500.00 / ticket
8
Price Per Person
General price:
Adult (18+ years)
$

500.00 / ticket
9
Price Per Person
General price:
Adult (18+ years)
$

500.00 / ticket
10
Price Per Person
General price:
Adult (18+ years)
$

500.00 / ticket
11
Price Per Person
General price:
Adult (18+ years)
$

500.00 / ticket
12
Price Per Person
General price:
Adult (18+ years)
$

500.00 / ticket
13
Price Per Person
General price:
Adult (18+ years)
$

500.00 / ticket
14
Price Per Person
General price:
Adult (18+ years)
$

500.00 / ticket
15
Price Per Person
General price:
Adult (18+ years)
$

500.00 / ticket
16
Price Per Person
General price:
Adult (18+ years)
$

500.00 / ticket
17
Price Per Person
General price:
Adult (18+ years)
$

500.00 / ticket
18
Price Per Person
General price:
Adult (18+ years)
$

500.00 / ticket
19
Price Per Person
General price:
Adult (18+ years)
$

500.00 / ticket
20
Price Per Person
General price:
Adult (18+ years)
$

500.00 / ticket
21
Price Per Person
General price:
Adult (18+ years)
$

500.00 / ticket
22
Price Per Person
General price:
Adult (18+ years)
$

500.00 / ticket
23
Price Per Person
General price:
Adult (18+ years)
$

500.00 / ticket
24
Price Per Person
General price:
Adult (18+ years)
$

500.00 / ticket
25
Price Per Person
General price:
Adult (18+ years)
$

500.00 / ticket
26
Price Per Person
General price:
Adult (18+ years)
$

500.00 / ticket
27
Price Per Person
General price:
Adult (18+ years)
$

500.00 / ticket
28
Price Per Person
General price:
Adult (18+ years)
$

500.00 / ticket
29
Price Per Person
General price:
Adult (18+ years)
$

500.00 / ticket
30
Price Per Person
General price:
Adult (18+ years)
$

500.00 / ticket
1
Price Per Person
General price:
Adult (18+ years)
$

500.00 / ticket
2
Price Per Person
General price:
Adult (18+ years)
$

500.00 / ticket
3
Price Per Person
General price:
Adult (18+ years)
$

500.00 / ticket
4
Price Per Person
General price:
Adult (18+ years)
$

500.00 / ticket
5
Price Per Person
General price:
Adult (18+ years)
$

500.00 / ticket
29
Price Per Person
General price:
Adult (18+ years)
$

500.00 / ticket
30
Price Per Person
General price:
Adult (18+ years)
$

500.00 / ticket
1
Price Per Person
General price:
Adult (18+ years)
$

500.00 / ticket
2
Price Per Person
General price:
Adult (18+ years)
$

500.00 / ticket
3
Price Per Person
General price:
Adult (18+ years)
$

500.00 / ticket
4
Price Per Person
General price:
Adult (18+ years)
$

500.00 / ticket
5
Price Per Person
General price:
Adult (18+ years)
$

500.00 / ticket
6
Price Per Person
General price:
Adult (18+ years)
$

500.00 / ticket
7
Price Per Person
General price:
Adult (18+ years)
$

500.00 / ticket
8
Price Per Person
General price:
Adult (18+ years)
$

500.00 / ticket
9
Price Per Person
General price:
Adult (18+ years)
$

500.00 / ticket
10
Price Per Person
General price:
Adult (18+ years)
$

500.00 / ticket
11
Price Per Person
General price:
Adult (18+ years)
$

500.00 / ticket
12
Price Per Person
General price:
Adult (18+ years)
$

500.00 / ticket
13
Price Per Person
General price:
Adult (18+ years)
$

500.00 / ticket
14
Price Per Person
General price:
Adult (18+ years)
$

500.00 / ticket
15
Price Per Person
General price:
Adult (18+ years)
$

500.00 / ticket
16
Price Per Person
General price:
Adult (18+ years)
$

500.00 / ticket
17
Price Per Person
General price:
Adult (18+ years)
$

500.00 / ticket
18
Price Per Person
General price:
Adult (18+ years)
$

500.00 / ticket
19
Price Per Person
General price:
Adult (18+ years)
$

500.00 / ticket
20
Price Per Person
General price:
Adult (18+ years)
$

500.00 / ticket
21
Price Per Person
General price:
Adult (18+ years)
$

500.00 / ticket
22
Price Per Person
General price:
Adult (18+ years)
$

500.00 / ticket
23
Price Per Person
General price:
Adult (18+ years)
$

500.00 / ticket
24
Price Per Person
General price:
Adult (18+ years)
$

500.00 / ticket
25
Price Per Person
General price:
Adult (18+ years)
$

500.00 / ticket
26
Price Per Person
General price:
Adult (18+ years)
$

500.00 / ticket
27
Price Per Person
General price:
Adult (18+ years)
$

500.00 / ticket
28
Price Per Person
General price:
Adult (18+ years)
$

500.00 / ticket
29
Price Per Person
General price:
Adult (18+ years)
$

500.00 / ticket
30
Price Per Person
General price:
Adult (18+ years)
$

500.00 / ticket
31
Price Per Person
General price:
Adult (18+ years)
$

500.00 / ticket
1
Price Per Person
General price:
Adult (18+ years)
$

500.00 / ticket
2
Price Per Person
General price:
Adult (18+ years)
$

500.00 / ticket
27
Price Per Person
General price:
Adult (18+ years)
$

500.00 / ticket
28
Price Per Person
General price:
Adult (18+ years)
$

500.00 / ticket
29
Price Per Person
General price:
Adult (18+ years)
$

500.00 / ticket
30
Price Per Person
General price:
Adult (18+ years)
$

500.00 / ticket
31
Price Per Person
General price:
Adult (18+ years)
$

500.00 / ticket
1
Price Per Person
General price:
Adult (18+ years)
$

500.00 / ticket
2
Price Per Person
General price:
Adult (18+ years)
$

500.00 / ticket
3
Price Per Person
General price:
Adult (18+ years)
$

500.00 / ticket
4
Price Per Person
General price:
Adult (18+ years)
$

500.00 / ticket
5
Price Per Person
General price:
Adult (18+ years)
$

500.00 / ticket
6
Price Per Person
General price:
Adult (18+ years)
$

500.00 / ticket
7
Price Per Person
General price:
Adult (18+ years)
$

500.00 / ticket
8
Price Per Person
General price:
Adult (18+ years)
$

500.00 / ticket
9
Price Per Person
General price:
Adult (18+ years)
$

500.00 / ticket
10
Price Per Person
General price:
Adult (18+ years)
$

500.00 / ticket
11
Price Per Person
General price:
Adult (18+ years)
$

500.00 / ticket
12
Price Per Person
General price:
Adult (18+ years)
$

500.00 / ticket
13
Price Per Person
General price:
Adult (18+ years)
$

500.00 / ticket
14
Price Per Person
General price:
Adult (18+ years)
$

500.00 / ticket
15
Price Per Person
General price:
Adult (18+ years)
$

500.00 / ticket
16
Price Per Person
General price:
Adult (18+ years)
$

500.00 / ticket
17
Price Per Person
General price:
Adult (18+ years)
$

500.00 / ticket
18
Price Per Person
General price:
Adult (18+ years)
$

500.00 / ticket
19
Price Per Person
General price:
Adult (18+ years)
$

500.00 / ticket
20
Price Per Person
General price:
Adult (18+ years)
$

500.00 / ticket
21
Price Per Person
General price:
Adult (18+ years)
$

500.00 / ticket
22
Price Per Person
General price:
Adult (18+ years)
$

500.00 / ticket
23
Price Per Person
General price:
Adult (18+ years)
$

500.00 / ticket
24
Price Per Person
General price:
Adult (18+ years)
$

500.00 / ticket
25
Price Per Person
General price:
Adult (18+ years)
$

500.00 / ticket
26
Price Per Person
General price:
Adult (18+ years)
$

500.00 / ticket
27
Price Per Person
General price:
Adult (18+ years)
$

500.00 / ticket
28
Price Per Person
General price:
Adult (18+ years)
$

500.00 / ticket
29
Price Per Person
General price:
Adult (18+ years)
$

500.00 / ticket
30
Price Per Person
General price:
Adult (18+ years)
$

500.00 / ticket
1
Price Per Person
General price:
Adult (18+ years)
$

500.00 / ticket
2
Price Per Person
General price:
Adult (18+ years)
$

500.00 / ticket
3
Price Per Person
General price:
Adult (18+ years)
$

500.00 / ticket
4
Price Per Person
General price:
Adult (18+ years)
$

500.00 / ticket
5
Price Per Person
General price:
Adult (18+ years)
$

500.00 / ticket
6
Price Per Person
General price:
Adult (18+ years)
$

500.00 / ticket
7
Price Per Person
General price:
Adult (18+ years)
$

500.00 / ticket
8
Price Per Person
General price:
Adult (18+ years)
$

500.00 / ticket
9
Price Per Person
General price:
Adult (18+ years)
$

500.00 / ticket
10
Price Per Person
General price:
Adult (18+ years)
$

500.00 / ticket
11
Price Per Person
General price:
Adult (18+ years)
$

500.00 / ticket
12
Price Per Person
General price:
Adult (18+ years)
$

500.00 / ticket
13
Price Per Person
General price:
Adult (18+ years)
$

500.00 / ticket
14
Price Per Person
General price:
Adult (18+ years)
$

500.00 / ticket
15
Price Per Person
General price:
Adult (18+ years)
$

500.00 / ticket
16
Price Per Person
General price:
Adult (18+ years)
$

500.00 / ticket
17
Price Per Person
General price:
Adult (18+ years)
$

500.00 / ticket
18
Price Per Person
General price:
Adult (18+ years)
$

500.00 / ticket
19
Price Per Person
General price:
Adult (18+ years)
$

500.00 / ticket
20
Price Per Person
General price:
Adult (18+ years)
$

500.00 / ticket
21
Price Per Person
General price:
Adult (18+ years)
$

500.00 / ticket
22
Price Per Person
General price:
Adult (18+ years)
$

500.00 / ticket
23
Price Per Person
General price:
Adult (18+ years)
$

500.00 / ticket
24
Price Per Person
General price:
Adult (18+ years)
$

500.00 / ticket
25
Price Per Person
General price:
Adult (18+ years)
$

500.00 / ticket
26
Price Per Person
General price:
Adult (18+ years)
$

500.00 / ticket
27
Price Per Person
General price:
Adult (18+ years)
$

500.00 / ticket
28
Price Per Person
General price:
Adult (18+ years)
$

500.00 / ticket
29
Price Per Person
General price:
Adult (18+ years)
$

500.00 / ticket
30
Price Per Person
General price:
Adult (18+ years)
$

500.00 / ticket
31
Price Per Person
General price:
Adult (18+ years)
$

500.00 / ticket
1
Price Per Person
General price:
Adult (18+ years)
$

500.00 / ticket
2
Price Per Person
General price:
Adult (18+ years)
$

500.00 / ticket
3
Price Per Person
General price:
Adult (18+ years)
$

500.00 / ticket
4
Price Per Person
General price:
Adult (18+ years)
$

500.00 / ticket
29
Price Per Person
General price:
Adult (18+ years)
$

500.00 / ticket
30
Price Per Person
General price:
Adult (18+ years)
$

500.00 / ticket
31
Price Per Person
General price:
Adult (18+ years)
$

500.00 / ticket
1
Price Per Person
General price:
Adult (18+ years)
$

500.00 / ticket
2
Price Per Person
General price:
Adult (18+ years)
$

500.00 / ticket
3
Price Per Person
General price:
Adult (18+ years)
$

500.00 / ticket
4
Price Per Person
General price:
Adult (18+ years)
$

500.00 / ticket
5
Price Per Person
General price:
Adult (18+ years)
$

500.00 / ticket
6
Price Per Person
General price:
Adult (18+ years)
$

500.00 / ticket
7
Price Per Person
General price:
Adult (18+ years)
$

500.00 / ticket
8
Price Per Person
General price:
Adult (18+ years)
$

500.00 / ticket
9
Price Per Person
General price:
Adult (18+ years)
$

500.00 / ticket
10
Price Per Person
General price:
Adult (18+ years)
$

500.00 / ticket
11
Price Per Person
General price:
Adult (18+ years)
$

500.00 / ticket
12
Price Per Person
General price:
Adult (18+ years)
$

500.00 / ticket
13
Price Per Person
General price:
Adult (18+ years)
$

500.00 / ticket
14
Price Per Person
General price:
Adult (18+ years)
$

500.00 / ticket
15
Price Per Person
General price:
Adult (18+ years)
$

500.00 / ticket
16
Price Per Person
General price:
Adult (18+ years)
$

500.00 / ticket
17
Price Per Person
General price:
Adult (18+ years)
$

500.00 / ticket
18
Price Per Person
General price:
Adult (18+ years)
$

500.00 / ticket
19
Price Per Person
General price:
Adult (18+ years)
$

500.00 / ticket
20
Price Per Person
General price:
Adult (18+ years)
$

500.00 / ticket
21
Price Per Person
General price:
Adult (18+ years)
$

500.00 / ticket
22
Price Per Person
General price:
Adult (18+ years)
$

500.00 / ticket
23
Price Per Person
General price:
Adult (18+ years)
$

500.00 / ticket
24
Price Per Person
General price:
Adult (18+ years)
$

500.00 / ticket
25
Price Per Person
General price:
Adult (18+ years)
$

500.00 / ticket
26
Price Per Person
General price:
Adult (18+ years)
$

500.00 / ticket
27
Price Per Person
General price:
Adult (18+ years)
$

500.00 / ticket
28
Price Per Person
General price:
Adult (18+ years)
$

500.00 / ticket
29
Price Per Person
General price:
Adult (18+ years)
$

500.00 / ticket
30
Price Per Person
General price:
Adult (18+ years)
$

500.00 / ticket
31
Price Per Person
General price:
Adult (18+ years)
$

500.00 / ticket
1
Price Per Person
General price:
Adult (18+ years)
$

500.00 / ticket