3 Days Tsavo East and West Safari
Embark on a 3-day Tsavo East and West Safari for an incredibly rewarding and unforgettable experience. This safari takes you on a journey to explore the mesmerizing Tsavo East National Park, often referred to as the "Theatre of the Wild."

Prepare to be captivated by the enchanting sight of dust-red elephants indulging in the midnight blue waters of the palm-shaded Galana River. It's a truly evocative image that epitomizes the essence of Africa. As you traverse this remarkable park, you'll also encounter the awe-inspiring Yatta Plateau, stretching an impressive 300 kilometers as the world's longest lava flow. This unique landscape promises an adventure unlike any other. Tsavo East National Park is not only the largest protected area in Kenya but also a haven for a diverse range of wildlife. Prepare to witness vast herds of dust-red elephants, rhinos, buffalos, lions, leopards, pods of hippos, crocodiles, waterbucks, lesser Kudu, gerenuk, and a prolific birdlife boasting 500 recorded species.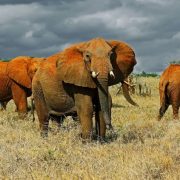 Tsavo West National Park, in contrast, offers a landscape adorned with lava, springs, legendary tales of man-eaters, and magical sunsets. Picture the mesmerizing sight of fifty million gallons of crystal-clear water gushing from the depths of parched lava rocks at the Mzima Springs. Explore the Shetani lava flows, marveling at the fascinating ruggedness of Tsavo West's wilderness. The savannah ecosystem welcomes you with its open grasslands, scrublands, Acacia woodlands, stretches of riverine vegetation, and rocky ridges. From the iconic Poacher's Lookout, take in the panoramic views of the teeming herds roaming the plains below. Tsavo West boasts some of the most magnificent game viewing opportunities in the world. Prepare to encounter elephants, rhinos, hippos, lions, cheetahs, leopards, buffalos, and a wide array of plant and bird species. Keep an eye out for the threatened corncrake and the near threatened Basra Reed Warbler, adding a touch of rarity to your wildlife encounters.
Embarking on the 3-day Tsavo East and West Safari ensures you'll immerse yourself in the wonders of these two remarkable national parks. Prepare for an adventure that will leave you with cherished memories of the remarkable wildlife, stunning landscapes, and the undeniable allure of the African wilderness.
Accommodation
Voi Safari Lodge at Tsavo East
Ngulia Safari Lodge at Tsavo West
Safari Cost
From $550 per person sharing
Transport
Guide allowances
Park fees
Game drives
Accommodation on FB
Meals
Drinking water
Tips
Optional activities
Travel insurance and medical covers
Anything not mentioned in the itinerary
Your driver/guide will pick up from your Nairobi area hotel, Nairobi airport or Nairobi area residence for the drive to Tsavo East. Visit the famous Aruba dam where lots of wildlife can be seen. Later drive to a lodge / luxury tented camp for check-in & lunch. An afternoon game viewing drive is scheduled later in the day. This relaxed game viewing drive takes us on the trails of the big five with magnificent views of the African sunset. Dinner and overnight will be at a lodge / luxury camp.
We shall be up before the sunrise for a game drive before breakfast. The splendor of an African sunrise that engulfs the savanna shall be experienced as we traverse the vast park in search of the early grazers and hunters. Breakfast will be followed by a checkout and drive to Tsavo west national park. Visit the Rhino sanctuary during this en route scenic game viewing. Arrive at lodge / luxury camp for check-in and lunch. Afternoon game drive will later on follow and will include a visit to shetani lava flow point which provides excellent distance view of mt. Kilimanjaro with its snow capped peaks. Return to your Lodge/ Luxury Camp for dinner and overnight.
On our final safari morning we'll celebrate by rising before the sun for a fabulous pre-breakfast game drive. Return to our lodge/camp for breakfast. Thereafter checkout and proceed for the mid-morning game viewing with a visit to Mzima Springs with more game viewing en-route. At the Mzima springs , we disembark and marvel at the underground source of sparkling clear waters and the surrounding greenery……, "A welcome reprieve in this semi-desert terrain" We view hippos, crocodiles, exotic fish and unique migratory birds. This exciting exploration experience is followed by an exit from the park and drive back to Nairobi. Safari ends with a drop off at Hotel or Airport.
Calendar & Price
27
Price per Person
General price:
Adult (18+ years)
$

550.00 / ticket
28
Price per Person
General price:
Adult (18+ years)
$

550.00 / ticket
29
Price per Person
General price:
Adult (18+ years)
$

550.00 / ticket
30
Price per Person
General price:
Adult (18+ years)
$

550.00 / ticket
1
Price per Person
General price:
Adult (18+ years)
$

550.00 / ticket
27
Price per Person
General price:
Adult (18+ years)
$

550.00 / ticket
28
Price per Person
General price:
Adult (18+ years)
$

550.00 / ticket
29
Price per Person
General price:
Adult (18+ years)
$

550.00 / ticket
30
Price per Person
General price:
Adult (18+ years)
$

550.00 / ticket
1
Price per Person
General price:
Adult (18+ years)
$

550.00 / ticket
2
Price per Person
General price:
Adult (18+ years)
$

550.00 / ticket
3
Price per Person
General price:
Adult (18+ years)
$

550.00 / ticket
4
Price per Person
General price:
Adult (18+ years)
$

550.00 / ticket
5
Price per Person
General price:
Adult (18+ years)
$

550.00 / ticket
6
Price per Person
General price:
Adult (18+ years)
$

550.00 / ticket
7
Price per Person
General price:
Adult (18+ years)
$

550.00 / ticket
8
Price per Person
General price:
Adult (18+ years)
$

550.00 / ticket
9
Price per Person
General price:
Adult (18+ years)
$

550.00 / ticket
10
Price per Person
General price:
Adult (18+ years)
$

550.00 / ticket
11
Price per Person
General price:
Adult (18+ years)
$

550.00 / ticket
12
Price per Person
General price:
Adult (18+ years)
$

550.00 / ticket
13
Price per Person
General price:
Adult (18+ years)
$

550.00 / ticket
14
Price per Person
General price:
Adult (18+ years)
$

550.00 / ticket
15
Price per Person
General price:
Adult (18+ years)
$

550.00 / ticket
16
Price per Person
General price:
Adult (18+ years)
$

550.00 / ticket
17
Price per Person
General price:
Adult (18+ years)
$

550.00 / ticket
18
Price per Person
General price:
Adult (18+ years)
$

550.00 / ticket
19
Price per Person
General price:
Adult (18+ years)
$

550.00 / ticket
20
Price per Person
General price:
Adult (18+ years)
$

550.00 / ticket
21
Price per Person
General price:
Adult (18+ years)
$

550.00 / ticket
22
Price per Person
General price:
Adult (18+ years)
$

550.00 / ticket
23
Price per Person
General price:
Adult (18+ years)
$

550.00 / ticket
24
Price per Person
General price:
Adult (18+ years)
$

550.00 / ticket
25
Price per Person
General price:
Adult (18+ years)
$

550.00 / ticket
26
Price per Person
General price:
Adult (18+ years)
$

550.00 / ticket
27
Price per Person
General price:
Adult (18+ years)
$

550.00 / ticket
28
Price per Person
General price:
Adult (18+ years)
$

550.00 / ticket
29
Price per Person
General price:
Adult (18+ years)
$

550.00 / ticket
30
Price per Person
General price:
Adult (18+ years)
$

550.00 / ticket
31
Price per Person
General price:
Adult (18+ years)
$

550.00 / ticket
1
Price per Person
General price:
Adult (18+ years)
$

550.00 / ticket
2
Price per Person
General price:
Adult (18+ years)
$

550.00 / ticket
3
Price per Person
General price:
Adult (18+ years)
$

550.00 / ticket
4
Price per Person
General price:
Adult (18+ years)
$

550.00 / ticket
5
Price per Person
General price:
Adult (18+ years)
$

550.00 / ticket
30
Price per Person
General price:
Adult (18+ years)
$

550.00 / ticket
31
Price per Person
General price:
Adult (18+ years)
$

550.00 / ticket
1
Price per Person
General price:
Adult (18+ years)
$

550.00 / ticket
2
Price per Person
General price:
Adult (18+ years)
$

550.00 / ticket
3
Price per Person
General price:
Adult (18+ years)
$

550.00 / ticket
4
Price per Person
General price:
Adult (18+ years)
$

550.00 / ticket
5
Price per Person
General price:
Adult (18+ years)
$

550.00 / ticket
6
Price per Person
General price:
Adult (18+ years)
$

550.00 / ticket
7
Price per Person
General price:
Adult (18+ years)
$

550.00 / ticket
8
Price per Person
General price:
Adult (18+ years)
$

550.00 / ticket
9
Price per Person
General price:
Adult (18+ years)
$

550.00 / ticket
10
Price per Person
General price:
Adult (18+ years)
$

550.00 / ticket
11
Price per Person
General price:
Adult (18+ years)
$

550.00 / ticket
12
Price per Person
General price:
Adult (18+ years)
$

550.00 / ticket
13
Price per Person
General price:
Adult (18+ years)
$

550.00 / ticket
14
Price per Person
General price:
Adult (18+ years)
$

550.00 / ticket
15
Price per Person
General price:
Adult (18+ years)
$

550.00 / ticket
16
Price per Person
General price:
Adult (18+ years)
$

550.00 / ticket
17
Price per Person
General price:
Adult (18+ years)
$

550.00 / ticket
18
Price per Person
General price:
Adult (18+ years)
$

550.00 / ticket
19
Price per Person
General price:
Adult (18+ years)
$

550.00 / ticket
20
Price per Person
General price:
Adult (18+ years)
$

550.00 / ticket
21
Price per Person
General price:
Adult (18+ years)
$

550.00 / ticket
22
Price per Person
General price:
Adult (18+ years)
$

550.00 / ticket
23
Price per Person
General price:
Adult (18+ years)
$

550.00 / ticket
24
Price per Person
General price:
Adult (18+ years)
$

550.00 / ticket
25
Price per Person
General price:
Adult (18+ years)
$

550.00 / ticket
26
Price per Person
General price:
Adult (18+ years)
$

550.00 / ticket
27
Price per Person
General price:
Adult (18+ years)
$

550.00 / ticket
28
Price per Person
General price:
Adult (18+ years)
$

550.00 / ticket
29
Price per Person
General price:
Adult (18+ years)
$

550.00 / ticket
30
Price per Person
General price:
Adult (18+ years)
$

550.00 / ticket
1
Price per Person
General price:
Adult (18+ years)
$

550.00 / ticket
2
Price per Person
General price:
Adult (18+ years)
$

550.00 / ticket
3
Price per Person
General price:
Adult (18+ years)
$

550.00 / ticket
27
Price per Person
General price:
Adult (18+ years)
$

550.00 / ticket
28
Price per Person
General price:
Adult (18+ years)
$

550.00 / ticket
29
Price per Person
General price:
Adult (18+ years)
$

550.00 / ticket
30
Price per Person
General price:
Adult (18+ years)
$

550.00 / ticket
1
Price per Person
General price:
Adult (18+ years)
$

550.00 / ticket
2
Price per Person
General price:
Adult (18+ years)
$

550.00 / ticket
3
Price per Person
General price:
Adult (18+ years)
$

550.00 / ticket
4
Price per Person
General price:
Adult (18+ years)
$

550.00 / ticket
5
Price per Person
General price:
Adult (18+ years)
$

550.00 / ticket
6
Price per Person
General price:
Adult (18+ years)
$

550.00 / ticket
7
Price per Person
General price:
Adult (18+ years)
$

550.00 / ticket
8
Price per Person
General price:
Adult (18+ years)
$

550.00 / ticket
9
Price per Person
General price:
Adult (18+ years)
$

550.00 / ticket
10
Price per Person
General price:
Adult (18+ years)
$

550.00 / ticket
11
Price per Person
General price:
Adult (18+ years)
$

550.00 / ticket
12
Price per Person
General price:
Adult (18+ years)
$

550.00 / ticket
13
Price per Person
General price:
Adult (18+ years)
$

550.00 / ticket
14
Price per Person
General price:
Adult (18+ years)
$

550.00 / ticket
15
Price per Person
General price:
Adult (18+ years)
$

550.00 / ticket
16
Price per Person
General price:
Adult (18+ years)
$

550.00 / ticket
17
Price per Person
General price:
Adult (18+ years)
$

550.00 / ticket
18
Price per Person
General price:
Adult (18+ years)
$

550.00 / ticket
19
Price per Person
General price:
Adult (18+ years)
$

550.00 / ticket
20
Price per Person
General price:
Adult (18+ years)
$

550.00 / ticket
21
Price per Person
General price:
Adult (18+ years)
$

550.00 / ticket
22
Price per Person
General price:
Adult (18+ years)
$

550.00 / ticket
23
Price per Person
General price:
Adult (18+ years)
$

550.00 / ticket
24
Price per Person
General price:
Adult (18+ years)
$

550.00 / ticket
25
Price per Person
General price:
Adult (18+ years)
$

550.00 / ticket
26
Price per Person
General price:
Adult (18+ years)
$

550.00 / ticket
27
Price per Person
General price:
Adult (18+ years)
$

550.00 / ticket
28
Price per Person
General price:
Adult (18+ years)
$

550.00 / ticket
29
Price per Person
General price:
Adult (18+ years)
$

550.00 / ticket
30
Price per Person
General price:
Adult (18+ years)
$

550.00 / ticket
31
Price per Person
General price:
Adult (18+ years)
$

550.00 / ticket
1
Price per Person
General price:
Adult (18+ years)
$

550.00 / ticket
2
Price per Person
General price:
Adult (18+ years)
$

550.00 / ticket
3
Price per Person
General price:
Adult (18+ years)
$

550.00 / ticket
4
Price per Person
General price:
Adult (18+ years)
$

550.00 / ticket
5
Price per Person
General price:
Adult (18+ years)
$

550.00 / ticket
6
Price per Person
General price:
Adult (18+ years)
$

550.00 / ticket
7
Price per Person
General price:
Adult (18+ years)
$

550.00 / ticket
8
Price per Person
General price:
Adult (18+ years)
$

550.00 / ticket
9
Price per Person
General price:
Adult (18+ years)
$

550.00 / ticket
10
Price per Person
General price:
Adult (18+ years)
$

550.00 / ticket
11
Price per Person
General price:
Adult (18+ years)
$

550.00 / ticket
12
Price per Person
General price:
Adult (18+ years)
$

550.00 / ticket
13
Price per Person
General price:
Adult (18+ years)
$

550.00 / ticket
14
Price per Person
General price:
Adult (18+ years)
$

550.00 / ticket
15
Price per Person
General price:
Adult (18+ years)
$

550.00 / ticket
16
Price per Person
General price:
Adult (18+ years)
$

550.00 / ticket
17
Price per Person
General price:
Adult (18+ years)
$

550.00 / ticket
18
Price per Person
General price:
Adult (18+ years)
$

550.00 / ticket
19
Price per Person
General price:
Adult (18+ years)
$

550.00 / ticket
20
Price per Person
General price:
Adult (18+ years)
$

550.00 / ticket
21
Price per Person
General price:
Adult (18+ years)
$

550.00 / ticket
22
Price per Person
General price:
Adult (18+ years)
$

550.00 / ticket
23
Price per Person
General price:
Adult (18+ years)
$

550.00 / ticket
24
Price per Person
General price:
Adult (18+ years)
$

550.00 / ticket
25
Price per Person
General price:
Adult (18+ years)
$

550.00 / ticket
26
Price per Person
General price:
Adult (18+ years)
$

550.00 / ticket
27
Price per Person
General price:
Adult (18+ years)
$

550.00 / ticket
28
Price per Person
General price:
Adult (18+ years)
$

550.00 / ticket
29
Price per Person
General price:
Adult (18+ years)
$

550.00 / ticket
30
Price per Person
General price:
Adult (18+ years)
$

550.00 / ticket
31
Price per Person
General price:
Adult (18+ years)
$

550.00 / ticket
1
Price per Person
General price:
Adult (18+ years)
$

550.00 / ticket
2
Price per Person
General price:
Adult (18+ years)
$

550.00 / ticket
3
Price per Person
General price:
Adult (18+ years)
$

550.00 / ticket
4
Price per Person
General price:
Adult (18+ years)
$

550.00 / ticket
29
Price per Person
General price:
Adult (18+ years)
$

550.00 / ticket
30
Price per Person
General price:
Adult (18+ years)
$

550.00 / ticket
31
Price per Person
General price:
Adult (18+ years)
$

550.00 / ticket
1
Price per Person
General price:
Adult (18+ years)
$

550.00 / ticket
2
Price per Person
General price:
Adult (18+ years)
$

550.00 / ticket
3
Price per Person
General price:
Adult (18+ years)
$

550.00 / ticket
4
Price per Person
General price:
Adult (18+ years)
$

550.00 / ticket
5
Price per Person
General price:
Adult (18+ years)
$

550.00 / ticket
6
Price per Person
General price:
Adult (18+ years)
$

550.00 / ticket
7
Price per Person
General price:
Adult (18+ years)
$

550.00 / ticket
8
Price per Person
General price:
Adult (18+ years)
$

550.00 / ticket
9
Price per Person
General price:
Adult (18+ years)
$

550.00 / ticket
10
Price per Person
General price:
Adult (18+ years)
$

550.00 / ticket
11
Price per Person
General price:
Adult (18+ years)
$

550.00 / ticket
12
Price per Person
General price:
Adult (18+ years)
$

550.00 / ticket
13
Price per Person
General price:
Adult (18+ years)
$

550.00 / ticket
14
Price per Person
General price:
Adult (18+ years)
$

550.00 / ticket
15
Price per Person
General price:
Adult (18+ years)
$

550.00 / ticket
16
Price per Person
General price:
Adult (18+ years)
$

550.00 / ticket
17
Price per Person
General price:
Adult (18+ years)
$

550.00 / ticket
18
Price per Person
General price:
Adult (18+ years)
$

550.00 / ticket
19
Price per Person
General price:
Adult (18+ years)
$

550.00 / ticket
20
Price per Person
General price:
Adult (18+ years)
$

550.00 / ticket
21
Price per Person
General price:
Adult (18+ years)
$

550.00 / ticket
22
Price per Person
General price:
Adult (18+ years)
$

550.00 / ticket
23
Price per Person
General price:
Adult (18+ years)
$

550.00 / ticket
24
Price per Person
General price:
Adult (18+ years)
$

550.00 / ticket
25
Price per Person
General price:
Adult (18+ years)
$

550.00 / ticket
26
Price per Person
General price:
Adult (18+ years)
$

550.00 / ticket
27
Price per Person
General price:
Adult (18+ years)
$

550.00 / ticket
28
Price per Person
General price:
Adult (18+ years)
$

550.00 / ticket
29
Price per Person
General price:
Adult (18+ years)
$

550.00 / ticket
1
Price per Person
General price:
Adult (18+ years)
$

550.00 / ticket
2
Price per Person
General price:
Adult (18+ years)
$

550.00 / ticket
3
Price per Person
General price:
Adult (18+ years)
$

550.00 / ticket
26
Price per Person
General price:
Adult (18+ years)
$

550.00 / ticket
27
Price per Person
General price:
Adult (18+ years)
$

550.00 / ticket
28
Price per Person
General price:
Adult (18+ years)
$

550.00 / ticket
29
Price per Person
General price:
Adult (18+ years)
$

550.00 / ticket
1
Price per Person
General price:
Adult (18+ years)
$

550.00 / ticket
2
Price per Person
General price:
Adult (18+ years)
$

550.00 / ticket
3
Price per Person
General price:
Adult (18+ years)
$

550.00 / ticket
4
Price per Person
General price:
Adult (18+ years)
$

550.00 / ticket
5
Price per Person
General price:
Adult (18+ years)
$

550.00 / ticket
6
Price per Person
General price:
Adult (18+ years)
$

550.00 / ticket
7
Price per Person
General price:
Adult (18+ years)
$

550.00 / ticket
8
Price per Person
General price:
Adult (18+ years)
$

550.00 / ticket
9
Price per Person
General price:
Adult (18+ years)
$

550.00 / ticket
10
Price per Person
General price:
Adult (18+ years)
$

550.00 / ticket
11
Price per Person
General price:
Adult (18+ years)
$

550.00 / ticket
12
Price per Person
General price:
Adult (18+ years)
$

550.00 / ticket
13
Price per Person
General price:
Adult (18+ years)
$

550.00 / ticket
14
Price per Person
General price:
Adult (18+ years)
$

550.00 / ticket
15
Price per Person
General price:
Adult (18+ years)
$

550.00 / ticket
16
Price per Person
General price:
Adult (18+ years)
$

550.00 / ticket
17
Price per Person
General price:
Adult (18+ years)
$

550.00 / ticket
18
Price per Person
General price:
Adult (18+ years)
$

550.00 / ticket
19
Price per Person
General price:
Adult (18+ years)
$

550.00 / ticket
20
Price per Person
General price:
Adult (18+ years)
$

550.00 / ticket
21
Price per Person
General price:
Adult (18+ years)
$

550.00 / ticket
22
Price per Person
General price:
Adult (18+ years)
$

550.00 / ticket
23
Price per Person
General price:
Adult (18+ years)
$

550.00 / ticket
24
Price per Person
General price:
Adult (18+ years)
$

550.00 / ticket
25
Price per Person
General price:
Adult (18+ years)
$

550.00 / ticket
26
Price per Person
General price:
Adult (18+ years)
$

550.00 / ticket
27
Price per Person
General price:
Adult (18+ years)
$

550.00 / ticket
28
Price per Person
General price:
Adult (18+ years)
$

550.00 / ticket
29
Price per Person
General price:
Adult (18+ years)
$

550.00 / ticket
30
Price per Person
General price:
Adult (18+ years)
$

550.00 / ticket
31
Price per Person
General price:
Adult (18+ years)
$

550.00 / ticket
1
Price per Person
General price:
Adult (18+ years)
$

550.00 / ticket
2
Price per Person
General price:
Adult (18+ years)
$

550.00 / ticket
3
Price per Person
General price:
Adult (18+ years)
$

550.00 / ticket
4
Price per Person
General price:
Adult (18+ years)
$

550.00 / ticket
5
Price per Person
General price:
Adult (18+ years)
$

550.00 / ticket
6
Price per Person
General price:
Adult (18+ years)
$

550.00 / ticket
7
Price per Person
General price:
Adult (18+ years)
$

550.00 / ticket
8
Price per Person
General price:
Adult (18+ years)
$

550.00 / ticket
9
Price per Person
General price:
Adult (18+ years)
$

550.00 / ticket
10
Price per Person
General price:
Adult (18+ years)
$

550.00 / ticket
11
Price per Person
General price:
Adult (18+ years)
$

550.00 / ticket
12
Price per Person
General price:
Adult (18+ years)
$

550.00 / ticket
13
Price per Person
General price:
Adult (18+ years)
$

550.00 / ticket
14
Price per Person
General price:
Adult (18+ years)
$

550.00 / ticket
15
Price per Person
General price:
Adult (18+ years)
$

550.00 / ticket
16
Price per Person
General price:
Adult (18+ years)
$

550.00 / ticket
17
Price per Person
General price:
Adult (18+ years)
$

550.00 / ticket
18
Price per Person
General price:
Adult (18+ years)
$

550.00 / ticket
19
Price per Person
General price:
Adult (18+ years)
$

550.00 / ticket
20
Price per Person
General price:
Adult (18+ years)
$

550.00 / ticket
21
Price per Person
General price:
Adult (18+ years)
$

550.00 / ticket
22
Price per Person
General price:
Adult (18+ years)
$

550.00 / ticket
23
Price per Person
General price:
Adult (18+ years)
$

550.00 / ticket
24
Price per Person
General price:
Adult (18+ years)
$

550.00 / ticket
25
Price per Person
General price:
Adult (18+ years)
$

550.00 / ticket
26
Price per Person
General price:
Adult (18+ years)
$

550.00 / ticket
27
Price per Person
General price:
Adult (18+ years)
$

550.00 / ticket
28
Price per Person
General price:
Adult (18+ years)
$

550.00 / ticket
29
Price per Person
General price:
Adult (18+ years)
$

550.00 / ticket
30
Price per Person
General price:
Adult (18+ years)
$

550.00 / ticket
1
Price per Person
General price:
Adult (18+ years)
$

550.00 / ticket
2
Price per Person
General price:
Adult (18+ years)
$

550.00 / ticket
3
Price per Person
General price:
Adult (18+ years)
$

550.00 / ticket
4
Price per Person
General price:
Adult (18+ years)
$

550.00 / ticket
5
Price per Person
General price:
Adult (18+ years)
$

550.00 / ticket
29
Price per Person
General price:
Adult (18+ years)
$

550.00 / ticket
30
Price per Person
General price:
Adult (18+ years)
$

550.00 / ticket
1
Price per Person
General price:
Adult (18+ years)
$

550.00 / ticket
2
Price per Person
General price:
Adult (18+ years)
$

550.00 / ticket
3
Price per Person
General price:
Adult (18+ years)
$

550.00 / ticket
4
Price per Person
General price:
Adult (18+ years)
$

550.00 / ticket
5
Price per Person
General price:
Adult (18+ years)
$

550.00 / ticket
6
Price per Person
General price:
Adult (18+ years)
$

550.00 / ticket
7
Price per Person
General price:
Adult (18+ years)
$

550.00 / ticket
8
Price per Person
General price:
Adult (18+ years)
$

550.00 / ticket
9
Price per Person
General price:
Adult (18+ years)
$

550.00 / ticket
10
Price per Person
General price:
Adult (18+ years)
$

550.00 / ticket
11
Price per Person
General price:
Adult (18+ years)
$

550.00 / ticket
12
Price per Person
General price:
Adult (18+ years)
$

550.00 / ticket
13
Price per Person
General price:
Adult (18+ years)
$

550.00 / ticket
14
Price per Person
General price:
Adult (18+ years)
$

550.00 / ticket
15
Price per Person
General price:
Adult (18+ years)
$

550.00 / ticket
16
Price per Person
General price:
Adult (18+ years)
$

550.00 / ticket
17
Price per Person
General price:
Adult (18+ years)
$

550.00 / ticket
18
Price per Person
General price:
Adult (18+ years)
$

550.00 / ticket
19
Price per Person
General price:
Adult (18+ years)
$

550.00 / ticket
20
Price per Person
General price:
Adult (18+ years)
$

550.00 / ticket
21
Price per Person
General price:
Adult (18+ years)
$

550.00 / ticket
22
Price per Person
General price:
Adult (18+ years)
$

550.00 / ticket
23
Price per Person
General price:
Adult (18+ years)
$

550.00 / ticket
24
Price per Person
General price:
Adult (18+ years)
$

550.00 / ticket
25
Price per Person
General price:
Adult (18+ years)
$

550.00 / ticket
26
Price per Person
General price:
Adult (18+ years)
$

550.00 / ticket
27
Price per Person
General price:
Adult (18+ years)
$

550.00 / ticket
28
Price per Person
General price:
Adult (18+ years)
$

550.00 / ticket
29
Price per Person
General price:
Adult (18+ years)
$

550.00 / ticket
30
Price per Person
General price:
Adult (18+ years)
$

550.00 / ticket
31
Price per Person
General price:
Adult (18+ years)
$

550.00 / ticket
1
Price per Person
General price:
Adult (18+ years)
$

550.00 / ticket
2
Price per Person
General price:
Adult (18+ years)
$

550.00 / ticket
27
Price per Person
General price:
Adult (18+ years)
$

550.00 / ticket
28
Price per Person
General price:
Adult (18+ years)
$

550.00 / ticket
29
Price per Person
General price:
Adult (18+ years)
$

550.00 / ticket
30
Price per Person
General price:
Adult (18+ years)
$

550.00 / ticket
31
Price per Person
General price:
Adult (18+ years)
$

550.00 / ticket
1
Price per Person
General price:
Adult (18+ years)
$

550.00 / ticket
2
Price per Person
General price:
Adult (18+ years)
$

550.00 / ticket
3
Price per Person
General price:
Adult (18+ years)
$

550.00 / ticket
4
Price per Person
General price:
Adult (18+ years)
$

550.00 / ticket
5
Price per Person
General price:
Adult (18+ years)
$

550.00 / ticket
6
Price per Person
General price:
Adult (18+ years)
$

550.00 / ticket
7
Price per Person
General price:
Adult (18+ years)
$

550.00 / ticket
8
Price per Person
General price:
Adult (18+ years)
$

550.00 / ticket
9
Price per Person
General price:
Adult (18+ years)
$

550.00 / ticket
10
Price per Person
General price:
Adult (18+ years)
$

550.00 / ticket
11
Price per Person
General price:
Adult (18+ years)
$

550.00 / ticket
12
Price per Person
General price:
Adult (18+ years)
$

550.00 / ticket
13
Price per Person
General price:
Adult (18+ years)
$

550.00 / ticket
14
Price per Person
General price:
Adult (18+ years)
$

550.00 / ticket
15
Price per Person
General price:
Adult (18+ years)
$

550.00 / ticket
16
Price per Person
General price:
Adult (18+ years)
$

550.00 / ticket
17
Price per Person
General price:
Adult (18+ years)
$

550.00 / ticket
18
Price per Person
General price:
Adult (18+ years)
$

550.00 / ticket
19
Price per Person
General price:
Adult (18+ years)
$

550.00 / ticket
20
Price per Person
General price:
Adult (18+ years)
$

550.00 / ticket
21
Price per Person
General price:
Adult (18+ years)
$

550.00 / ticket
22
Price per Person
General price:
Adult (18+ years)
$

550.00 / ticket
23
Price per Person
General price:
Adult (18+ years)
$

550.00 / ticket
24
Price per Person
General price:
Adult (18+ years)
$

550.00 / ticket
25
Price per Person
General price:
Adult (18+ years)
$

550.00 / ticket
26
Price per Person
General price:
Adult (18+ years)
$

550.00 / ticket
27
Price per Person
General price:
Adult (18+ years)
$

550.00 / ticket
28
Price per Person
General price:
Adult (18+ years)
$

550.00 / ticket
29
Price per Person
General price:
Adult (18+ years)
$

550.00 / ticket
30
Price per Person
General price:
Adult (18+ years)
$

550.00 / ticket
1
Price per Person
General price:
Adult (18+ years)
$

550.00 / ticket
2
Price per Person
General price:
Adult (18+ years)
$

550.00 / ticket
3
Price per Person
General price:
Adult (18+ years)
$

550.00 / ticket
4
Price per Person
General price:
Adult (18+ years)
$

550.00 / ticket
5
Price per Person
General price:
Adult (18+ years)
$

550.00 / ticket
6
Price per Person
General price:
Adult (18+ years)
$

550.00 / ticket
7
Price per Person
General price:
Adult (18+ years)
$

550.00 / ticket
8
Price per Person
General price:
Adult (18+ years)
$

550.00 / ticket
9
Price per Person
General price:
Adult (18+ years)
$

550.00 / ticket
10
Price per Person
General price:
Adult (18+ years)
$

550.00 / ticket
11
Price per Person
General price:
Adult (18+ years)
$

550.00 / ticket
12
Price per Person
General price:
Adult (18+ years)
$

550.00 / ticket
13
Price per Person
General price:
Adult (18+ years)
$

550.00 / ticket
14
Price per Person
General price:
Adult (18+ years)
$

550.00 / ticket
15
Price per Person
General price:
Adult (18+ years)
$

550.00 / ticket
16
Price per Person
General price:
Adult (18+ years)
$

550.00 / ticket
17
Price per Person
General price:
Adult (18+ years)
$

550.00 / ticket
18
Price per Person
General price:
Adult (18+ years)
$

550.00 / ticket
19
Price per Person
General price:
Adult (18+ years)
$

550.00 / ticket
20
Price per Person
General price:
Adult (18+ years)
$

550.00 / ticket
21
Price per Person
General price:
Adult (18+ years)
$

550.00 / ticket
22
Price per Person
General price:
Adult (18+ years)
$

550.00 / ticket
23
Price per Person
General price:
Adult (18+ years)
$

550.00 / ticket
24
Price per Person
General price:
Adult (18+ years)
$

550.00 / ticket
25
Price per Person
General price:
Adult (18+ years)
$

550.00 / ticket
26
Price per Person
General price:
Adult (18+ years)
$

550.00 / ticket
27
Price per Person
General price:
Adult (18+ years)
$

550.00 / ticket
28
Price per Person
General price:
Adult (18+ years)
$

550.00 / ticket
29
Price per Person
General price:
Adult (18+ years)
$

550.00 / ticket
30
Price per Person
General price:
Adult (18+ years)
$

550.00 / ticket
31
Price per Person
General price:
Adult (18+ years)
$

550.00 / ticket
1
Price per Person
General price:
Adult (18+ years)
$

550.00 / ticket
2
Price per Person
General price:
Adult (18+ years)
$

550.00 / ticket
3
Price per Person
General price:
Adult (18+ years)
$

550.00 / ticket
4
Price per Person
General price:
Adult (18+ years)
$

550.00 / ticket
29
Price per Person
General price:
Adult (18+ years)
$

550.00 / ticket
30
Price per Person
General price:
Adult (18+ years)
$

550.00 / ticket
31
Price per Person
General price:
Adult (18+ years)
$

550.00 / ticket
1
Price per Person
General price:
Adult (18+ years)
$

550.00 / ticket
2
Price per Person
General price:
Adult (18+ years)
$

550.00 / ticket
3
Price per Person
General price:
Adult (18+ years)
$

550.00 / ticket
4
Price per Person
General price:
Adult (18+ years)
$

550.00 / ticket
5
Price per Person
General price:
Adult (18+ years)
$

550.00 / ticket
6
Price per Person
General price:
Adult (18+ years)
$

550.00 / ticket
7
Price per Person
General price:
Adult (18+ years)
$

550.00 / ticket
8
Price per Person
General price:
Adult (18+ years)
$

550.00 / ticket
9
Price per Person
General price:
Adult (18+ years)
$

550.00 / ticket
10
Price per Person
General price:
Adult (18+ years)
$

550.00 / ticket
11
Price per Person
General price:
Adult (18+ years)
$

550.00 / ticket
12
Price per Person
General price:
Adult (18+ years)
$

550.00 / ticket
13
Price per Person
General price:
Adult (18+ years)
$

550.00 / ticket
14
Price per Person
General price:
Adult (18+ years)
$

550.00 / ticket
15
Price per Person
General price:
Adult (18+ years)
$

550.00 / ticket
16
Price per Person
General price:
Adult (18+ years)
$

550.00 / ticket
17
Price per Person
General price:
Adult (18+ years)
$

550.00 / ticket
18
Price per Person
General price:
Adult (18+ years)
$

550.00 / ticket
19
Price per Person
General price:
Adult (18+ years)
$

550.00 / ticket
20
Price per Person
General price:
Adult (18+ years)
$

550.00 / ticket
21
Price per Person
General price:
Adult (18+ years)
$

550.00 / ticket
22
Price per Person
General price:
Adult (18+ years)
$

550.00 / ticket
23
Price per Person
General price:
Adult (18+ years)
$

550.00 / ticket
24
Price per Person
General price:
Adult (18+ years)
$

550.00 / ticket
25
Price per Person
General price:
Adult (18+ years)
$

550.00 / ticket
26
Price per Person
General price:
Adult (18+ years)
$

550.00 / ticket
27
Price per Person
General price:
Adult (18+ years)
$

550.00 / ticket
28
Price per Person
General price:
Adult (18+ years)
$

550.00 / ticket
29
Price per Person
General price:
Adult (18+ years)
$

550.00 / ticket
30
Price per Person
General price:
Adult (18+ years)
$

550.00 / ticket
31
Price per Person
General price:
Adult (18+ years)
$

550.00 / ticket
1
Price per Person
General price:
Adult (18+ years)
$

550.00 / ticket