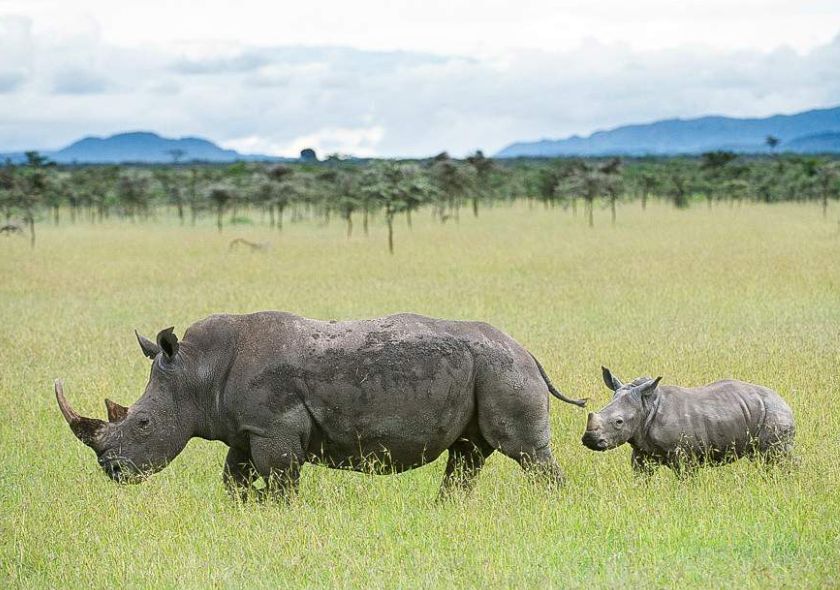 Ol Pejeta Conservancy
Ol Pejeta Conservancy is a 364sq km wildlife conservancy situated between the foothills of Mount Kenya and the Aberdares and its game-to-area ratio tops the Kenyan park and reserve league. The Ol Pejeta Conservancy in Kenya has over 10000 large mammals and it is the only park where the big 5 and chimpanzees can be seen. It is also where the fastest growing population of rhino in Africa can be found. There are southern white rhino, about 80 endangered black rhino and in a special sanctuary there are two of the world's last remaining northern white rhino. Safari by vehicle is not the only option at Ol Pejeta. Safari game walks, horse rides and even camel rides are available, as are safari night drives. Since being established in 1988 Ol Pejeta has had a colourful list of previous owners including Lord Delamere, an early and influential settler from Britain, shipping tycoon Aristotle Onassis' father Roussel and the arms dealer Adnan Khashoggi. It was set up originally as a cattle ranch but herds of migrating elephant regularly destroyed the fenced enclosures making intensive cattle farming impracticable. Cattle still plays a role in Ol Pejeta today but as a managed livestock within the conservancy and is used to maximise the bio-diversity of the land making Ol Pejeta an integrated wildlife and livestock area. The conservancy is keen to educate as well and has an Environmental and Conservation Centre that welcomes around 100 Kenyan schools through its doors annually. The Centre focusses on teaching ecology, culture and the importance of sustainable wildlife management to safeguard the future of the conservancy. Visitors can also learn about local culture and traditions by meeting the peoples of the Samburu, Turkana, Pokot and Maasai.
Activities available at Ol Pejeta
Meet Baraka the Black Rhino Visit Sweetwaters Chimpanzee Sanctuary Lion Tracking Night Game Drives Riding Horses with Rhinos
Wildlife Highlights
Ol Pejeta Conservancy is home to all of the Big Five. It is the largest black rhino sanctuary in East Africa, and sightings of both black and white rhino are common. Ol Pejeta is said to have the highest predator density in Kenya outside of the Maasai Mara; and there is a good chance of seeing lion, cheetah and hyena.
Customize your East Africa Holiday with us



Let us help you organize a once-in-a-lifetime Safari Experience for you and your loved ones.